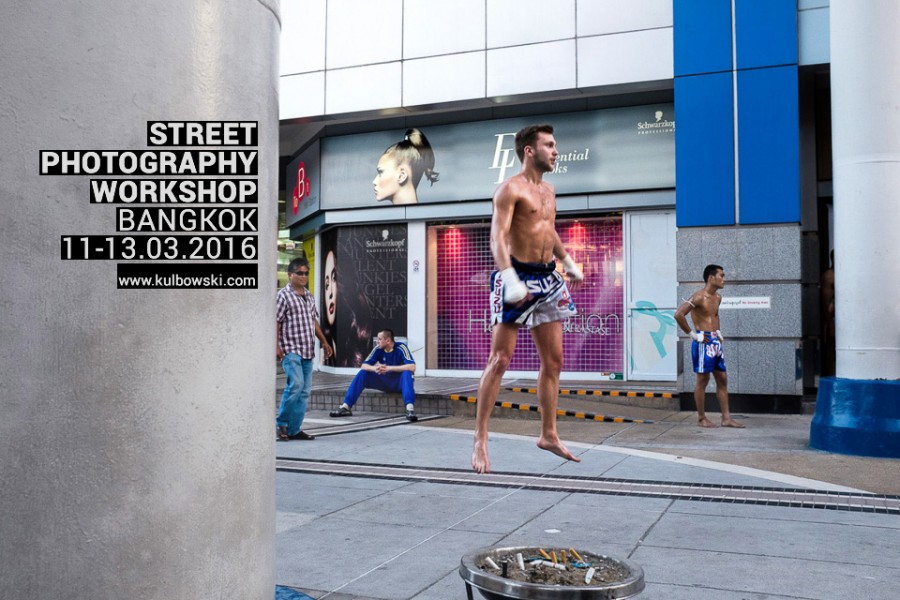 Join the intensive, 3-day long Street Photography workshop lead by Tomasz Kulbowski on 11–13.03.2016 in the location famous for it's diverse and multi-layered street life – Bangkok, Thailand.
Workshop description
The workshop group is limited to only 6 people, to ensure the quality of working together and having a comfortable personal contact. Tomasz holds an MA in Educational Studies and is a qualified teacher, so you can expect a well-thought and properly organised didactic process – please read the details below. Workshop will be lead in English and it's dedicated to people with at least basic experience with street and documentary photography.
During this 3-day long creative event, Tomasz will share his experiences and thoughts on the various aspects of Street Photography practice and documentary photography within public spaces in general. He will discuss in details the process and methodology behind his work, as well as his understanding of Street Photography. In the more practical aspect, participants will be focusing on creating meaningful images, which are informative and can work both in series or as strong, singular "one image story". Tomasz strongly believes in the importance of personal documentation of reality through the medium of photography and values the creative approach to the public space we all share. The main goal of the workshop is not only to improve your photography practice, but also to work towards better visual sensitivity – getting the most from the photographer's creative instinct as well as improving your creative approach to public space. The complex and dynamic streets of  Bangkok are the perfect area for practicing those skills.
Workshop programme
On the first day, as an introduction, Tomasz will present the history of Street Photography, its range and various definitions, as well as the myths, misconceptions and controversies related to this genre will be presented. Some of the work of the Masters will be presented and Kulbowski will discuss in details his own photos – their origin, behind the scenes, technicalities, difficulties, etc. On that day the participants' work will be discussed and the goals and assignments for the next day will be thought about.
The second day will be dedicated to the field work – this is a crucial day, as the results of it will be discussed and analysed on the day after. During that day Tomasz will be also available for 1:1 sessions, portfolio reviews, to answer any questions and monitor the progress of all participants.
On the third day, the participants' work from Day Two will be collectively edited and analysed. The experiences, issues and observations from the field work will be discussed, as well as the strong and weak points, what can be improved and how this work can be continued in future. Participants will also practice the difficult art of photo editing in order to create an interesting visual narrative and a consistent body of work.
Prior to the workshop, all participants will receive a special introductory information on Street Photography, details on the workshop and schedule. Tomasz will also initially discuss the individual participants' portfolios, as preparation for the first day of the workshop.
Workshop details
Date:

11–13 March 2016

Location:

Rancha Tearoom (ร้านชา)
Address: 290/4 Tanao Road (Google Maps)
An intimate venue with multimedia room at our disposal, WiFi, aircon, only 3 minutes walk from the Khao San Road.

Schedule:

Day 1 / Friday 11.03 / 12:00-18:00 – introduction, theory, assignments
Day 2 / Saturday 12.03 / 12:00-18:00 – field work (whole day) and 1:1 sessions
Day 3 / Sunday 13.03 / 12:00-19:00 – analysis, validation, editing and discussion

Fee:

160 USD – early bird offer only until 11 February 2016!
190 USD – regular fee after 11 February 2016
(direct transfer, Paypal and credit card payments accepted)

Application deadline:

29 February 2016

Participants:

Small group – maximum 6 participants.

Language:

English language

Requirements:

The workshop is dedicated to people with at least basic experience with street and documentary photography and familiar with their cameras. There are no technical requirements but the digital camera is preferred due to the specifics of the workshop.
JOIN THE WORKSHOP!

To participate in the workshop or if you have any questions, please send an email to workshops@kulbowski.com or use the contact form below. You will be contacted as soon as possible with further details about the workshop.
(Your email will not be shared or used for anything else.)